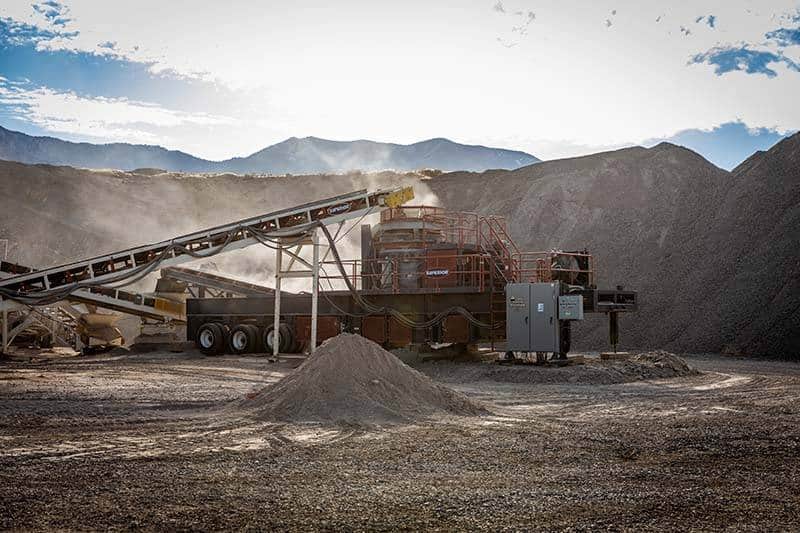 Morris, Minn. – Superior Industries, Inc., a US-based manufacturer and global supplier of bulk material processing and handling systems, is proud to announce a dealer partnership with FIMSA throughout all of Mexico. The Durango-based distributor now represents Superior's growing line of crushing and screening equipment including jaws, cones, VSI and HSI crushers, plus horizontal, inclined and grizzly vibratory machines.

"The enthusiasm for Superior's refreshing customer-centered approach to manufacturing and service is expanding rapidly around the world," says Rogelio Gaitan, FIMSA's managing director. "We're excited to bring this excitement to Mexico's crushing and screening operations."

Since about 2015, Superior Industries has aggressively grown its crushing and screening portfolio through voice-of-the-customer designs backed by one of the largest aftermarket support teams in the aggregate and mining sector. Today, Superior's products include more than 50 models of crushers and another 50 models of vibratory screens and feeders. Equipment is sold as bare machinery or packaged as portable or modular plants.

"All of the options means our teams will work closely to provide our customers with complete solutions," says Gaitan. "We're equipped with the turnkey capabilities, engineering, manufacturing and product resources to get our customers exactly what they need."

Founded in 1969, FIMSA is a market leading solutions provider for design, manufacturing, installation and full plant subcontract operations within Mexico's aggregates and mining industries. FIMSA has over 140 staff members, with a sales force distributed throughout Mexico to offer effective and personalized service.

SUPERIOR SE UNE A FIMSA PARA LA TRITURACIÓN Y EL CRIBADO EN MÉXICO
Morris, Minn. – Superior Industries, Inc., fabricante y proveedor global de sistemas de manipulación y procesamiento de materiales a granel con sede en Estados Unidos, se enorgullece de anunciar una asociación de distribuidores con FIMSA en todo México. El distribuidor con sede en Durango ahora representa la creciente línea de equipos de trituración y de cribado de Superior, que incluye trituradoras de mandíbulas, de conos, VSI y HSI y máquinas vibratorias horizontales, inclinadas y Grizzly.

"El entusiasmo por el refrescante enfoque de Superior centrado en el cliente para la fabricación y el servicio se está expandiendo rápidamente por todo el mundo", afirma Rogelio Gaitán, director general de FIMSA. "Estamos ansiosos por traer esta emoción a las operaciones de trituración y de cribado en México".

Desde 2015, aproximadamente, Superior Industries ha hecho crecer notablemente su cartera de productos de trituración y cribado mediante diseños de voz del cliente respaldados por uno de los mayores equipos de asistencia posventa del sector de los áridos y de la minería. Hoy, los productos Superior incluyen más de 50 modelos de trituradoras y otros 50 modelos de cribas y alimentadoras vibratorias. El equipo se vende como maquinaria descubierta o empaquetadas como plantas portátiles o modulares.

"Todas las opciones significan que nuestros equipos trabajarán estrechamente para ofrecer soluciones completas a nuestros clientes", dice Gaitán. "Estamos equipados con las capacidades de llave en mano, la ingeniería, la fabricación y los recursos de productos para dar a nuestros clientes exactamente lo que necesitan".

Fundada en 1969, FIMSA es un proveedor de soluciones líder en el mercado en el diseño, la fabricación, la instalación y las operaciones de subcontratación de plantas completas entre las industrias de áridos y de minería de México. FIMSA tiene más de 140 empleados, con una fuerza de ventas distribuida por todo México para ofrecer un servicio eficiente y personalizado.

Sobre Superior Industries, Inc.
Gracias a Rock Face to Load Out®, Superior Industries diseña y fabrica innovadores equipos de procesamiento y manipulación de materiales a granel y modernos componentes. Desde su sede en Morris, Minnesota, EE. UU., el fabricante suministra sistemas de trituración, cribado, lavado y transporte a granel y todas las piezas y los servicios relacionados para industrias como las de áridos y de minería. Además de tener su planta central, Superior opera desde otras tres instalaciones en EE. UU., además de fábricas internacionales en Canadá, Brasil y China. (www.superior-ind.com)