100% Designed and Built by Superior
A slurry material is pressurized and fed near the top of the cone-shaped cyclone. Heavier, coarser product is flung to the outside while the finer particles collect in the center where a constant syphoning effect is taking place. This pulls the finer waste product out through the overflow pipe. Salable product is discharged through the apex at the bottom.

Unless replacing an existing product, cyclones are traditionally sold as part of a larger package like within a Spirit® Sand Plant or alongside a dewatering screen.

We offer two models of hydrocyclones depending on your application. The first — for fines recovery — is manufactured of 100% cast urethane and is typically designed for about a 400 mesh cut (37 µm).

The other model is for sand production applications. It's constructed of a steel shell lined internally with urethane and makes its cut around 170 mesh (88 µm).



Features & Benefits
01.
Feed pipe
Square to round-shaped transition is manufactured with high wear urethane.
02.
inlet design
Geometrically efficient inlet reduces feed turbulence to improve classification and lower internal wear. (Patent Pending)
03.
vortex finder
Prevents short-circuiting (less misplacement of coarse material to the overflow.)
04.
urethane lining
Fines recovery models cast of 100% urethane, while sand production models have a steel case and urethane lining.
05.
apex design
Custom-cut for quick, in-the-field application adjustments. (Patent Pending)
Helix Cyclones in Application
Helix Cyclone
MODELS
Fines recovery model
12" or 16" (305 – 406mm)
100% cast urethane
Lasts longer than steel
Lightweight for handling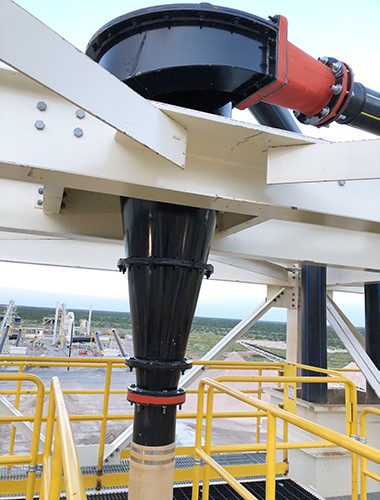 sand production model
16" – 30" (406 – 762mm)
Steel shell for support
Cast urethane liners
Lasts longer than rubber
Have questions? Need a quote? Complete the form below and we will follow up shortly.
Request More Info

|

Helix Cyclone

See our privacy policy.