Material on Material Scrubbing
Servicing a niche group of industries like frac sand and glass production, attrition mills produce a more durable product with better sand equivalency.

Inside each tub, a set of opposing pitch impellers force particles to collide. This action breaks up particles but also cleans and polishes the surface of the sand.

Standard packages are designed in increments of two tubs. Owners and operators increase the number of connected tubs depending on their application.
Features & Benefits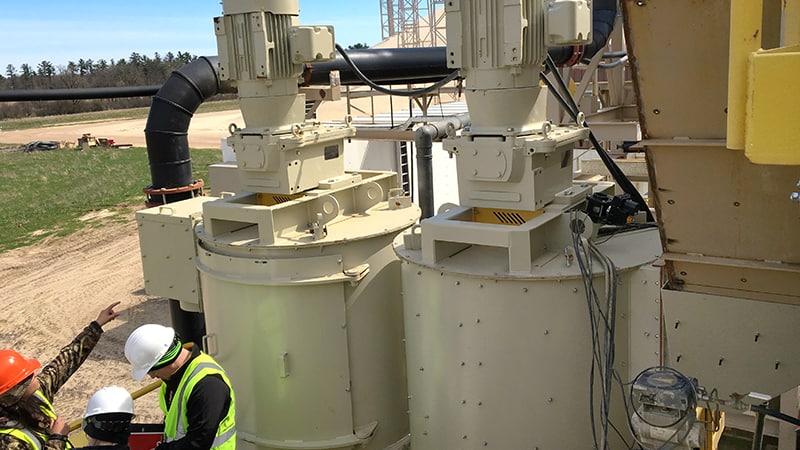 01.
Round Tub
Designed without corners to encourage consistent sand processing. Corners trap material.
02.
access door
Sealed watertight, these hinged doors eliminate heavy lifting and are oversized to ease clean-out.
03.
direct drive
Reduces maintenance, electricity and lowers operating cost.
04.
wear liners
Standard weld in liners or an optional bolt in style protect the machine's structural integrity.
05.
opposing impellers
Toolless attachments are coated in 2" (50mm) of long-lasting urethane.
Stock Inventory
Most of the time, we rely on our dealers to stock Superior equipment. However, we typically have a small amount of factory stock.
Have questions? Need a quote? Complete the form below and we will follow up shortly.
Request More Info

| Attrition Mill

See our privacy policy.
Service & Parts
We always have been and always will be a privately-owned company. That means we can add more employees to our customer service team without Wall Street breathing down our neck. Isn't that the way it should be?
dealer support
They're the same neighbors you'd trust to babysit your dog on the weekend. Our factory-trained dealers are a local connection for sales, service and parts.
phone support
Staffed by agents born to serve others, you're welcome to call our technical service team 24/7/365. (If you call in the middle of the night, we can't guarantee they're in uniform!)
replacement parts
You know the old saying…"square pegs don't fit in round holes?" It's often the case with knock-off parts. Genuine Superior parts are forged from the same steel as our equipment