PRECISE PRODUCT SHAPE & SIZE
A Horizontal Shaft Impact (HSI) crusher is one of the most popular tools for producing cube-shaped products.
Feed material quickly contacts a series of blow bars spinning rapidly on a rotor. These blow bars (hammers) violently toss the rocks against steel curtains (aprons). Eventually, newly shaped rock exits the opening at the bottom of the HSI.
Compared to compression crushers like jaws and cones, horizontal shaft impactors will accept larger feed sizes, process a higher tonnage and allow excellent control of particle shape and size by simply adjusting the spacing of its internal components.
Superior builds more than a dozen HSI models:
Maximum feed size up to 31″ (800mm)
Product size of 10″ – 1″ (254 – 25mm)
Maximum tonnage rate of 990 STPH (900 MTPH)
Features & Benefits
01.
opening & closing
Access to cavity is controlled hydraulically for safe and consistent entry to internals.
02.
inspection doors
Multiple chamber access points at the top, side and back of the crusher.
03.
blow bars
Two, three or four bar options with multiple material options improves application flexibility.
04.
side liners
Mix and match these universally-sized liners to prolong wear life and decrease replacement costs.
05.
rotor design
Open rotor design generates high inertia for lower cost of ownership.
06.
curtain adjustment
Easy hydraulic adjustment of the crusher's closed side setting (CSS).
Impact Crushers
benefits of impact crushing
When utilized correctly, impact crushers are absolute rockstars! They produce some of the highest value, highest quality material in the aggregates industry
Sentry HSI Videos
Mike Schultz provides a pre-CONEXPO overview for a crusher useful to quarry or recycle applications.
Animation showing the features of the Sentry HSI Horizontal Shaft Impactor crusher.
The Sentry HSI comes backed by a rock-solid 2-year / 6,000-hour warranty against manufacturer defects.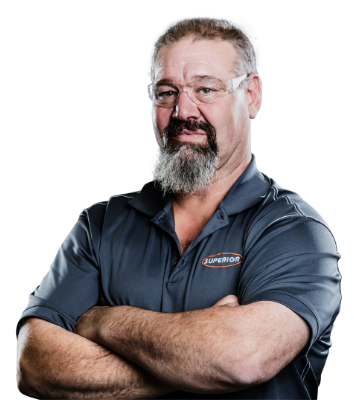 Stock Inventory
Most of the time, we rely on our dealers to stock Superior equipment. However, we typically have a small amount of factory stock.
Have questions? Need a quote? Complete the form below and we will follow up shortly.
Request More Info

| SENTRY HSI

See our privacy policy.
Service & Parts
We always have been and always will be a privately-owned company. That means we can add more employees to our customer service team without Wall Street breathing down our neck. Isn't that the way it should be?
dealer support
They're the same neighbors you'd trust to babysit your dog on the weekend. Our factory-trained dealers are a local connection for sales, service and parts.
phone support
Staffed by agents born to serve others, you're welcome to call our technical service team 24/7/365. (If you call in the middle of the night, we can't guarantee they're in uniform!)
replacement parts
You know the old saying…"square pegs don't fit in round holes?" It's often the case with knock-off parts. Genuine Superior parts are forged from the same steel as our equipment