The "driver" is usually the most important component of any moving system and it's no different with conveyors. Simply put, conveyor pulleys are responsible for driving the belt.

It takes at least two to travel and are categorized as drive or head, return or tail, bend tensioning, snub tensioning or take-up pulleys. Maximum pulley life is essential to cost-efficient material handling and high-capacity production.
Wing Pulleys
Superior was first to introduce the v-shaped wing pulley and quickly after, the Chevron® Pulley became the standard for wing pulleys.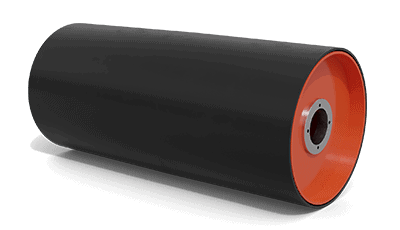 Drum Pulleys
Drum pulleys serve in a variety of roles or positions, including drive, tail, bend tensioning, snub tensioning and/or take-up pulleys.
Service & Parts
We always have been and always will be a privately-owned company. That means we can add more employees to our customer service team without Wall Street breathing down our neck. Isn't that the way it should be?
dealer support
They're the same neighbors you'd trust to babysit your dog on the weekend. Our factory-trained dealers are a local connection for sales, service and parts.
phone support
Staffed by agents born to serve others, you're welcome to call our technical service team 24/7/365. (If you call in the middle of the night, we can't guarantee they're in uniform!)
replacement parts
You know the old saying…"square pegs don't fit in round holes?" It's often the case with knock-off parts. Genuine Superior parts are forged from the same steel as our equipment