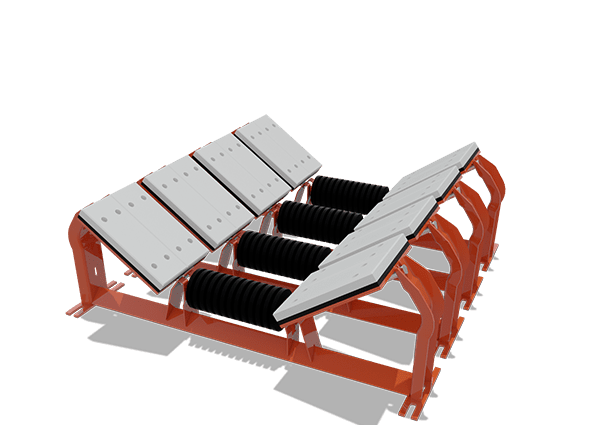 seal the deal
Within a conveyor load zone, one of the leading causes of spillage is when a belt sags between the idlers. Our innovative and easy to install Sealing System closes this gap and creates a tight seal between the belt and skirting.

If you've been around conveyors long enough you know that spillage is one of the most common drawbacks of material handling systems. While it can come from any area of a conveyor, the load or transition zone is especially prone to piles of fugitive material.

Spillage from the load zone generates dust, contaminates your material, damages components and — in some cases — safety hazards are created when it covers walkways or free-falls from elevated conveyors.
Cartridges 5" or 10" (127 – 254mm)
Belt widths 24" – 72" (609 – 1,728mm)
Fits to CEMA C or D idler frames
Features & Benefits
01.
Sealing Cartridges
Eliminate belt sagging and create tight seal between belting and hopper skirting.
02.
cartridge construction
A layer of UHMW protects the belt as it passes and a layer of rubber protects from minor impact.
03.
idler frames
If equipped, utilize your existing CEMA C or D idler frames. Just replace rolls with cartridges.
04.
center rolls
To complete the frame, you can order steel or rubber impact rolls for the center of the frame.
Have questions? Need a quote? Complete the form below and we will follow up shortly.
Request More Info

| Sealing System

See our privacy policy.
Service & Parts
We always have been and always will be a privately-owned company. That means we can add more employees to our customer service team without Wall Street breathing down our neck. Isn't that the way it should be?
dealer support
They're the same neighbors you'd trust to babysit your dog on the weekend. Our factory-trained dealers are a local connection for sales, service and parts.
phone support
Staffed by agents born to serve others, you're welcome to call our technical service team 24/7/365. (If you call in the middle of the night, we can't guarantee they're in uniform!)
replacement parts
You know the old saying…"square pegs don't fit in round holes?" It's often the case with knock-off parts. Genuine Superior parts are forged from the same steel as our equipment