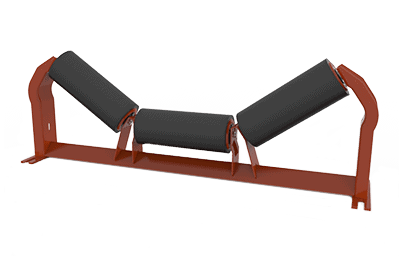 Shed Sticky Material
Moxie Rolls are manufactured using a specially formulated high-density polyethylene (HDPE). Conveyor owners and operators see a number of benefits.

First, when sticky material clings to steel rolls the size of the rolls increase and belt tracking issues usually follow. The lubricity of these plastic rolls sheds material.

Second, each Moxie Roll is up to 50% lighter than steel, which means a lighter load for your maintenance crew and — sometimes — a reduction in horsepower requirements.

Lastly, HDPE generates 3X less noise than steel. If you have nightmares about that familiar clanking sound caused by mechanical clips, exchange steel for Moxie Rolls for peace and quiet.
Belt widths 24" – 72" (609mm – 1,828mm)
Roll diameters 5" and 6" (127mm and 152mm)
CEMA classes C and D
Corrosion Defense
Add galvanized or stainless steel frames to your order for complete resistance to decay in corrosive conditions.
Maintenance-Free
IDLERS
Our new Application-Specific SpinGuard® Seals protect and extend idler life in a number of conditions.

Have questions? Need a quote? Complete the form below and we will follow up shortly.
Request More Info

| moxie ROLLS

See our privacy policy.
Service & Parts
We always have been and always will be a privately-owned company. That means we can add more employees to our customer service team without Wall Street breathing down our neck. Isn't that the way it should be?
dealer support
They're the same neighbors you'd trust to babysit your dog on the weekend. Our factory-trained dealers are a local connection for sales, service and parts.
phone support
Staffed by agents born to serve others, you're welcome to call our technical service team 24/7/365. (If you call in the middle of the night, we can't guarantee they're in uniform!)
replacement parts
You know the old saying…"square pegs don't fit in round holes?" It's often the case with knock-off parts. Genuine Superior parts are forged from the same steel as our equipment