flexibility to customize
At Superior, we're vertically integrated. That's just a fancy way of saying we manufacture about 95% of the materials that make up your portable plant. We're one of the only manufacturers in the world who can claim this but more importantly, it offers our customers the truest access to a custom-designed processing plant.

You see, most portable plant manufacturers offer customization, but they only control the materials they manufacture (typically just the chassis).

We don't stop there…
Since Superior also manufactures all of the plant's components, each of those elements are customizable too.
For example, we've modified our crushing, screening and washing equipment to be more compatible with portability. That might include changing its size, adjusting the weight or altering a shape for proper clearance.

After everything fits and specifications are confirmed, we go further and study the whole plant.
Most of our competitors build a quality product. However, when you manufacture all of the components that go into a portable plant, the flexibility to customize is unlimited!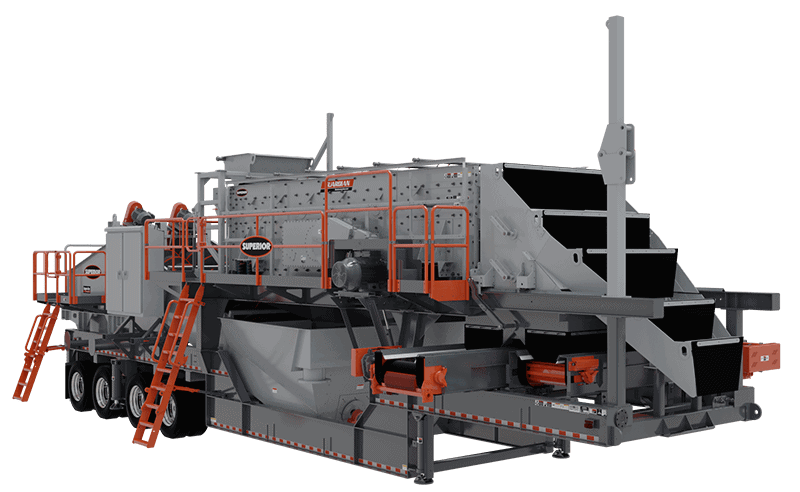 Features & Benefits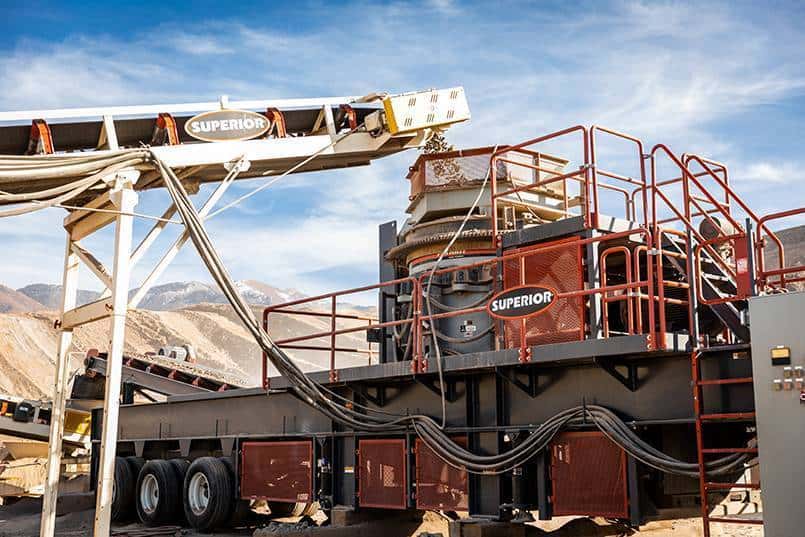 01.
Level Assist
This will accelerate your installation. Once the plant is raised to operating height, press a button for automatic leveling.
02.
Centralized Greasing
There's no need to squeeze into tight spaces or walk the entire plant when you can grease from a common bank.
03.
Motor Mount
Before road travel you can hydraulically or manually tilt the motor so it stays attached but allows for clearance.
04.
Run-On Legs
Ditch those clunky chunks of cribbing. These pinless hydraulic jacks lift and hold the plant in position.
05.
Superior Components
All the crushers, screens, washers and conveyors (including idlers and pulleys) are designed by one company … Superior!
Full Portable Plant Spreads
Design a Complete Portable System From Rock Face to Load Out®
One source for all processing plants and portable conveyors
Designed and integrated to work seamlessly together
Easily peel off individual equipment to use at other job sites
Self-contained power options for remote conditions
All electrical and optional automation designed in-house by Superior
Portability of Plants Matters in Rural Wisconsin
Hopkins Sand & Gravel goes where the work is. They relocate their aggregate processing equipment at least 12-times in a season. Hear and see the options they selected to ensure their Superior portable crushing and screening plants are especially mobile. Or read the full story.
Not what you're looking for?
If one of our standard plants doesn't meet your needs, we're glad to customize for you! We're happy to install a competitor's crushing, screening or washing equipment on a Superior chassis. The world is big enough for all of us!
Portable Plants in Application
Have questions? Need a quote? Complete the form below and we will follow up shortly.
Request More Info

| Portable Plants

See our privacy policy.
Service & Parts
We always have been and always will be a privately-owned company. That means we can add more employees to our customer service team without Wall Street breathing down our neck. Isn't that the way it should be?
dealer support
They're the same neighbors you'd trust to babysit your dog on the weekend. Our factory-trained dealers are a local connection for sales, service and parts.
phone support
Staffed by agents born to serve others, you're welcome to call our technical service team 24/7/365. (If you call in the middle of the night, we can't guarantee they're in uniform!)
replacement parts
You know the old saying…"square pegs don't fit in round holes?" It's often the case with knock-off parts. Genuine Superior parts are forged from the same steel as our equipment