Total Package
You're probably aware that certain jump conveyors can be packed several to a single load … but radial stacking conveyors in the same configuration? Now they can! Introducing Slide-Stac Conveyors.

One of the conveyors — the bottom of the three-piece load — also serves as the trailer. It's equipped with dual axle tires to handle the two conveyors stacked above it.

The top two conveyors roll to and from their transport position. This rolling method is much safer than picking and lifting, which also requires more equipment to perform.
Lengths of 60', 70' or 80' (18.3, 21.3 or 24.3m)
Standard conveyor width of 36" (914mm)
Consist of (3) radial stackers in a single towable package
Slide-Stac Conveyors
in Application
Conveyors safely roll on and off pack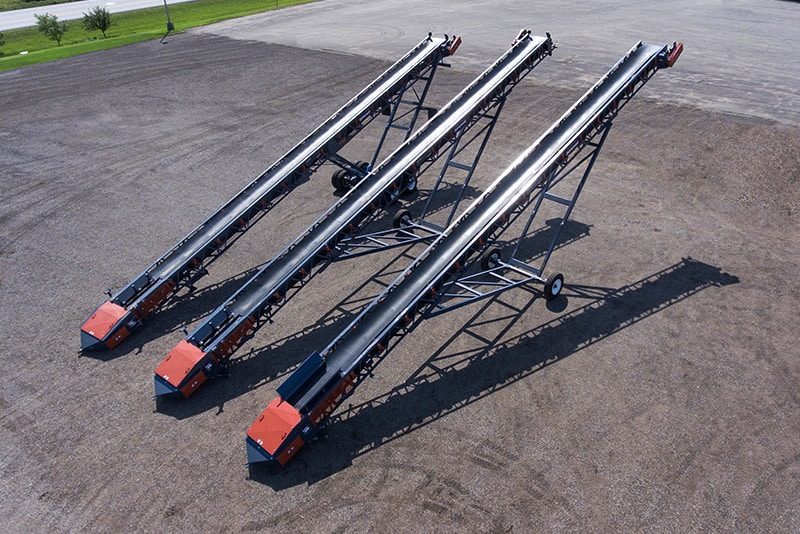 Three stacking conveyors in one load
Have questions? Need a quote? Complete the form below and we will follow up shortly.
Request More Info

|

Slide-Stac Conveyors

See our privacy policy.
Service & Parts
We always have been and always will be a privately-owned company. That means we can add more employees to our customer service team without Wall Street breathing down our neck. Isn't that the way it should be?
dealer support
They're the same neighbors you'd trust to babysit your dog on the weekend. Our factory-trained dealers are a local connection for sales, service and parts.
phone support
Staffed by agents born to serve others, you're welcome to call our technical service team 24/7/365. (If you call in the middle of the night, we can't guarantee they're in uniform!)
replacement parts
You know the old saying…"square pegs don't fit in round holes?" It's often the case with knock-off parts. Genuine Superior parts are forged from the same steel as our equipment