King of the Stockpile
Our ancestors must be looking down at us in envy. Before telescoping radial stackers — like the TeleStacker Conveyor — they attempted to overcome segregation with loaders, only to reinvest any profits right back into those inefficient trucks.

Some of them understood the value of layered stockpiling and used dozers to push material. Unfortunately, running over the product compacted and crushed their precious sand.

The smartest quarrymen and women of the past used conveyors, but without variable heights or radial travel, the material was segregated before it even left the belt.

Today, we're blessed with technology to help build partially and fully desegregated stockpiles. These modern radial stacking conveyors extend and retract, move radially and have variable discharge heights. These are the basic features of a telescoping stacker.

Established in 1997, the TeleStacker Conveyor is pound-for-pound the strongest, safest and most productive telescopic stacker on the planet. Every square inch of steel is designed to carry more load, provide more stability, and move material at the lowest cost per ton.
Capacities up to 5,000 STPH (4,535 MTPH)
Stockpiles up to 395,500 tons (300,000 tonnes)
Multiple axle configurations
Features & Benefits
01.
FB® Undercarriage
Patented design provides maximum undercarriage support for safety and lateral stability.
02.
Stinger Safety Stop
Continuously monitors cable tension to stinger conveyor. Automatically activates if cable breaks.
03.
Stinger Load Rollers
Each heavy-duty roller equally shares the weight of the stinger conveyor.
04.
Slidetrack System
Cable support system designed with no material catch points and easy to access for maintenance
05.
PILE PRO™ AUTOMATION
Designed and maintained by Superior engineers with a clean, easy to understand interface.
06.
Pile Sensor
Contact-free sensor is more reliable and not affected by dust or debris.
Pile Pro™ automation
While some programs result in flat top stockpiles, our exclusive "zoning method" instructs the radial telescopic conveyor to stockpile more in the back. This creates a trapezoidal-shaped, higher volume stockpile.
road to Work in seconds
Watch a 136TSLP TeleStacker Conveyor change from road transport to operation in a manner of minutes. Equipped with an FD Axle it's safe, swift and simple.
XTP

Swing Axle

Watch as a Superior engineer goes into detail about the the XTP Swing Axle, describing what we do to ensure that our TeleStacker Conveyors are the best in their class.
Energy Independence
New self-contained models for remote quarrying and mining sites.
FD™ Axle
Hydraulically transfer from inline to radial mode in seconds

FD Auto Level keeps stacker level for better belt tracking

Enclosed planetary drive protected from damaging debris
XTP™ Swing Axle
Manually transfer from road to radial operation in minutes

Pull T-Handle to engage power travel; no chain drive

Concrete pad provides level runway

Pit Portable Axle
Designed for highest capacity, highest tonnage applications

Tow throughout mine or quarry; not road portable

Made from heavy duty fabricated steel

TeleStacker Conveyor Customization
TeleStacker Conveyor Finishes Off Unique Production
In this video, a Superior engineer goes into detail describing what we do to ensure that our TeleStacker® Conveyors are the best in their class.
Featured
Superior CONVEYOR COMPONENTS
Navigator® Return Trainer
Constantly working to guide and center belting on a machine that's always in motion.
Chevron® Pulley
Patented v-shape wing pulley ejects fugitive material for longer-lasting pulleys and belts.
Exterra® Belt Cleaners
Numerous models to choose all known for beefy, longer-lasting urethane blades.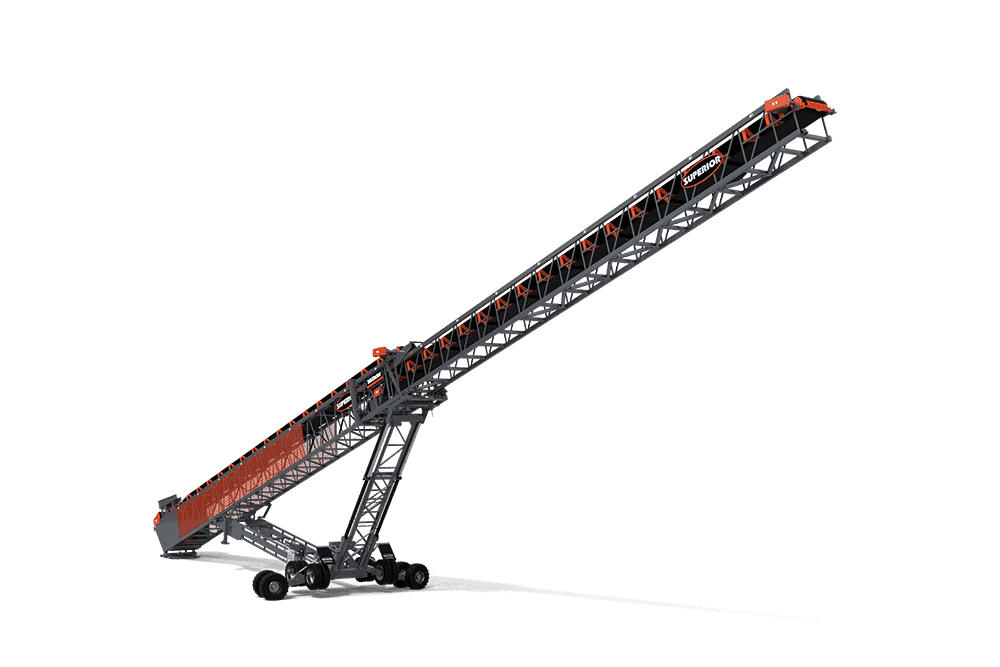 World Record Capacity
72 x 190 handles up to 5,000 TPH!
36 x 210 builds 400,000 ton stockpile!
Why a TeleStacker Conveyor?
OVERCOME STOCKPILE SEGREGATION
WHERE segregation OCCURS
There are many factors that contribute to segregation within a stockpile constructed by a standard conveyor.

Fine particles settle to the bottom of belts, coarse material discharges faster, free-falling sand rubs and erodes, and wind affects the trajectory of particles differently.
What segregation affects
Inconsistent gradation makes it nearly impossible to produce an acceptable asphalt or concrete product.

Roads constructed with segregated aggregate have poor structural integrity and shorter life expectancy than those made from properly desegregated products.
THREE-POINT ADVANTAGE
Building stockpiles in thin layers with variable height stackers is most effective for minimizing segregation.

Usually aided by automation, the stacker's variable height, extension and radial position is essential in making layered piles that overcome segregation.
TeleStacker Conveyor Finishes Off Unique Production
Geneva Rock's Ed Clayson is an industry veteran and has trusted Superior conveyors and components for the majority of his career. Get an inside look at Geneva Rock's production and learn about the conveying systems they use, which includes a mighty new TeleStacker Conveyor.
Form the owner's mouth. Advantages of the TeleStacker Conveyor.
Have questions? Need a quote? Complete the form below and we will follow up shortly.
Request More Info

|

TeleStacker Conveyor

See our privacy policy.
Service & Parts
We always have been and always will be a privately-owned company. That means we can add more employees to our customer service team without Wall Street breathing down our neck. Isn't that the way it should be?
dealer support
They're the same neighbors you'd trust to babysit your dog on the weekend. Our factory-trained dealers are a local connection for sales, service and parts.
phone support
Staffed by agents born to serve others, you're welcome to call our technical service team 24/7/365. (If you call in the middle of the night, we can't guarantee they're in uniform!)
replacement parts
You know the old saying…"square pegs don't fit in round holes?" It's often the case with knock-off parts. Genuine Superior parts are forged from the same steel as our equipment