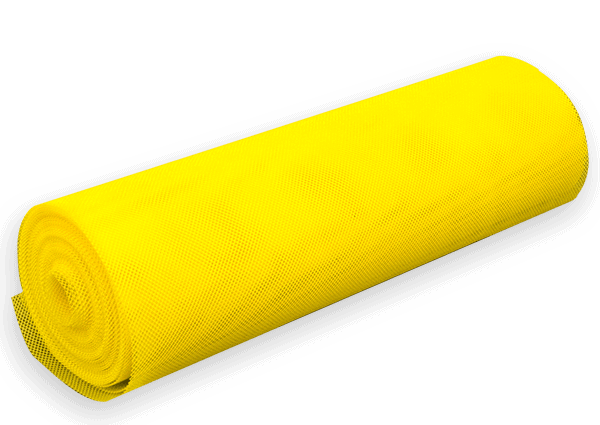 employee safety net
Superior's flexible guard panels are manufactured of bright yellow, UHMW material. It's easy to cut  and form to any shape, resists fading in sunlight and designed to shed material. Steel mesh is also an option.
Conveyor guarding is an essential component for safe operation and it's the top priority for any material producing operation. Still, every site and every inspector interprets MSHA's guide to equipment guarding differently. It's complicated, conflicting and there's no one-size-fits-all solution.

That's the reason we developed our flexible guard paneling. It's a quick and easy fix to issues MSHA says you need to fix. In fact, you can dispatch your crews with a couple of rolls while MSHA is still onsite, which leaves your inspector more confident an issue is fixed.
Mesh size 1/4″ or 3/4″ (6.35 – 19.05mm)
Roll lengths 50′ – 100′ (15 or 30mm)
Sheet size 4' x 5' (1.2m x 1.5m)
Guarding panel OPTIONS
Opening Size
Have questions? Need a quote? Complete the form below and we will follow up shortly.
Request More Info

| Flexible Guard Panels

See our privacy policy.
Service & Parts
We always have been and always will be a privately-owned company. That means we can add more employees to our customer service team without Wall Street breathing down our neck. Isn't that the way it should be?
dealer support
They're the same neighbors you'd trust to babysit your dog on the weekend. Our factory-trained dealers are a local connection for sales, service and parts.
phone support
Staffed by agents born to serve others, you're welcome to call our technical service team 24/7/365. (If you call in the middle of the night, we can't guarantee they're in uniform!)
replacement parts
You know the old saying…"square pegs don't fit in round holes?" It's often the case with knock-off parts. Genuine Superior parts are forged from the same steel as our equipment