Our History. Our Story.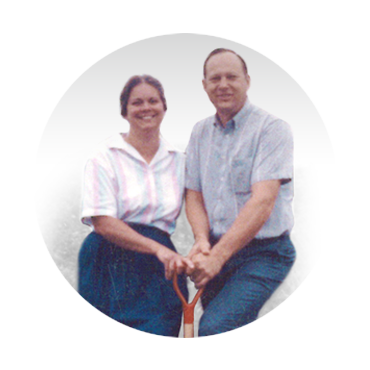 1972
After building portable crushing, washing and conveying equipment for his dad's gravel pits, Neil Schmidgall establishes Superior Machinery in Minnesota.
1974
At 20 MPH, Neil and Linda drive their International tractor to retrieve conveyor idler manufacturing equipment purchased in Kansas.
1975
After a terrible winter, which includes the "Great Winter Storm" that buried the region under 20-foot snowdrifts, we build our first indoor warehouse.
1976
Concrete Minnesota acquires Schmidgall Sand & Gravel, which allows Neil and Linda to dedicate 100% of their time to manufacturing.
1982
A paint line is constructed using materials purchased from recently bankrupt Arctic Cat, an American manufacturer of all-terrain vehicles.
1986
Neil leases equipment and space to employees to start their own business as suppliers to Superior and others.
1990
Superior's first professionally-trained design engineer joins the growing company
1991
A dedicated facility for conveyors and portable plants debuts moving final assembly indoors for the first time.
1994
Neil sells 30% of his ownership in Superior to employees creating an Employee Stock Ownership Plan (ESOP).
Superior earns its first patent for development of the FD Series conveyor axle, which reduces conveyor setup time to seconds.
1996
A King Air C90 Beechcraft airplane is purchased to allow quicker responses to customers' service needs.
1997
After years of research and development, the first TeleStacker® Conveyor debuts. It earns international attention and connects Superior to the world.
1998
After fire destroys the previous system, a new conveyor parts paint area comes online. The new system includes fiber-optic controls, powder coat painting and infrared curing.
1999
Superior is acquired by publicly-traded Astec Industries of Chattanooga, Tennessee.
2000
Plans for facility expansion and production supplies start after the decision to add conveyor pulleys to the product portfolio.
2003
On route from Chicago to Morris, a small plane carrying two young Superior engineers and a pilot crashes in Northeast Iowa. All men onboard passed away.
2004
A group of employees and local community investors purchase ownership of Superior back from Astec Industries.
2007
To better serve rapidly growing markets in the Southwest United States and Latin America, Superior expands manufacturing to Prescott Valley, Arizona.
Conveyor wing pulley market is disrupted when Superior unveils first-ever V-shaped wing pulley.
2008
To better serve stationary plant markets in the Southeast United States, Loganville, Georgia-based Fesco Systems is acquired
2008
Diversity of products and markets is the goal when Superior acquires neighboring hometown manufacturer Westmor Industries
2010
In-house weld training center launches to instruct and certify current and new employees in the latest welding technologies.
2012
Five years after Apple's revolutionary new phone, Superior creates the first iPhone App to quickly calculate conveyor-related equations.
2012
Management team sets 2020 Vision to be more relevant in bulk material processing and handling industries. Vision known as Rock Face to Load Out®.
2013
First time Superior exhibits at bauma. It's the world's largest trade show and conducted every three years in Munich, Germany.
2013
30,000 square feet of old space is demolished and 60,000 new square feet are added to the components plant in Minnesota. Capacity increases 60%.
2014
GreyStone, Inc. is the first acquisition to meet the Rock Face to Load Out vision. GreyStone manufactures wet processing equipment in Nebraska.
2014
Childhood buddies and industry veterans John Garrison and Jason Adams are the first two industry veterans to join evolving Superior.
2015
Several acquisitions add experience, manufacturing and intellectual property for crushing and screening equipment. Included are Clemro Western, MFE Manufacturing, Parcan Group and FLSmidth's Raptor cone assets.
2015
Founder Neil Schmidgall is inducted into Pit & Quarry Hall of Fame.
2015
Four models of Superior's new Patriot® Cone Crusher are available. They're the first new American-manufactured cones in at least a generation.
2017
Rock Face to Load Out Vision is unveiled to attendees of CONEXPO-CON/AGG. Superior shows the largest new product display in the exhibition's history.
2018
Formation of new European branch with office in Northern Ireland.
2020
Fully integrated partnership with AMPCO Minerals improves responsiveness, reliability and quality of North American supply chain.
2020
Along with the arrival of COVID-19 in America, Superior's groundbreaking application-specific idler bearing seals launch at CONEXPO-CON/AGG.