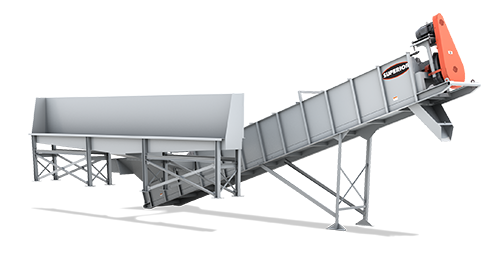 Recover Profitable Material
This concrete washout system is designed to recover leftover sand and gravel inside the drum of your ready-mix trucks.

At the end of a shift, your driver moves their truck under a high pressure nozzle, which flushes extra material from the drum to a trough. The trough leads the mix to a fine material washer.

Cement paste, fiber mesh, silts and water are washed out the backside of the screw as the sand and gravel are augered up and dewatered. Some customers have added a small screen to the end of the screw's discharge point to separate the sand from the gravel.

This recovered material can go back into the concrete plant or is put to other use. Once the cement settles or separates, the water can be reused as well.
Stock Inventory
Most of the time, we rely on our dealers to stock Superior equipment. However, we typically have a small amount of factory stock.
Have questions? Need a quote? Complete the form below and we will follow up shortly.
Request More Info

| Concrete Washout System

See our privacy policy.
Service & Parts
We always have been and always will be a privately-owned company. That means we can add more employees to our customer service team without Wall Street breathing down our neck. Isn't that the way it should be?
dealer support
They're the same neighbors you'd trust to babysit your dog on the weekend. Our factory-trained dealers are a local connection for sales, service and parts.
phone support
Staffed by agents born to serve others, you're welcome to call our technical service team 24/7/365. (If you call in the middle of the night, we can't guarantee they're in uniform!)
replacement parts
You know the old saying…"square pegs don't fit in round holes?" It's often the case with knock-off parts. Genuine Superior parts are forged from the same steel as our equipment