The Economical Overland Alternative

Historically, investing in overland conveyors, like the Zipline Conveyor, was a time-consuming experience. It required the producer and manufacturer to exchange lots of data points and consumed an extensive amount of engineering time. (These activities greatly extended the manufacturer's lead times and usually resulted in groundline conveyors that were overbuilt and overpriced for the application.)

There are plenty of applications for these custom-designed overland conveyor systems; however, if your transfer distance is less than 2,500 feet (762m) and your tonnage rate is less than 2,000 (1,800 tonnes) per hour we developed the Zipline Conveyor for you.

Zipline Conveyors require little to no engineering time, which results in significantly quicker lead times from our factories. Additionally, these modular overland conveyors are uniquely designed for quick installations…often within a couple of days
of materials receipt at your site.
Lengths up to 2,500′ (762m)
Belt widths of 30″ – 48″ (762 – 1,20mm)
Pre-designed head, intermediate and tail sections
Zipline Conveyor
In Application
Have questions? Need a quote? Complete the form below and we will follow up shortly.
Request More Info

| Zipline Conveyor

By clicking submit, you confirm that you agree to the storing and processing of your personal data as described in our privacy policy. Please understand you can unsubscribe or update preferences at any time.
Service & Parts
We always have been and always will be a privately-owned company. That means we can add more employees to our customer service team without Wall Street breathing down our neck. Isn't that the way it should be?
Dealer Support
They're the same neighbors you'd trust to babysit your dog on the weekend. Our factory-trained dealers are a local connection for sales, service and parts.
Phone Support
Staffed by agents born to serve others, you're welcome to call our technical service team 24/7/365. (If you call in the middle of the night, we can't guarantee they're in uniform!)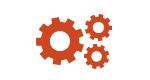 Replacement parts
You know the old saying … "square pegs don't fit in round holes?" It's often the case with knock-off parts. Genuine Superior are forged from the same steel as our equipment.