Navigator® Return Trainer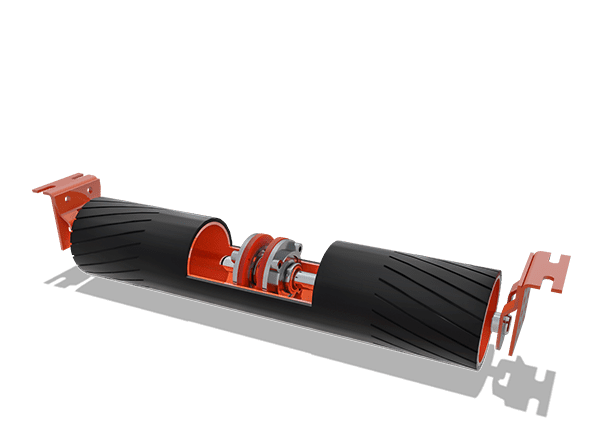 Straight Shooter
Today's top belt training technologies are automatic solutions that continuously keep the belt aligned, allowing your crew to achieve a set-it-and-forget-it attitude. After all, who wants to continuously adjust and monitor a belt, especially when the one moment you walk away is when the belt rips?

Superior's Navigator Return Trainer automatically provides
continuous alignment, centering the belt and reducing or eliminating any belt damage.
Diameters 7″ and 10″ (177mm – 254mm)
Belt widths 24″ – 72″ (609mm – 1,828mm)
Lagging: Add ¾" (19mm) to diameter
Features & Benefits
01.
Contactless sides
No damaging side contact mechanism, which can deteriorate belting.
02.
Replaceable Bearings
Internal flange mount bearings are free from material and are replaceable.
03.
Rubber Lagging
Add ¾" (19mm) to diameter of roll when you add material shedding lag option.
04.
Large roll
A large diameter roll extends service life of the trainer.
05.
Bidirectional
option
Ask for the bidirectional option if your application has a two-way belt.
Have questions? Need a quote? Complete the form below and we will follow up shortly.
Request More Info

| Navigator Return Trainer

See our privacy policy.
Service & Parts
We always have been and always will be a privately-owned company. That means we can add more employees to our customer service team without Wall Street breathing down our neck. Isn't that the way it should be?
dealer support
They're the same neighbors you'd trust to babysit your dog on the weekend. Our factory-trained dealers are a local connection for sales, service and parts.
phone support
Staffed by agents born to serve others, you're welcome to call our technical service team 24/7/365. (If you call in the middle of the night, we can't guarantee they're in uniform!)
replacement parts
You know the old saying…"square pegs don't fit in round holes?" It's often the case with knock-off parts. Genuine Superior parts are forged from the same steel as our equipment