PRIMARY COMPRESSION CRUSHING OF ABRASIVE MATERIAL
If you can explain how a nutcracker works you can essentially envision the operation of a Liberty Jaw Crusher.
Inside the chamber there are two jaws. One is fixed while the other constantly moves back and forth. This action compresses the rock causing it to break. Rocks stay in the jaws until they are small enough to pass through the bottom gap.
Superior builds more than a dozen models of the Liberty Jaw Crusher:
Feed Size: Up to 47″ (1,194mm)
Product Size: 15″ – 5″ (380mm – 125mm)
Production Rate: Up to 1,595 STPH (1,446 MTPH)
Primary Crusher
Brandon Scott, Plant Supervisor at Diamondback Materials in Arizona, overviews their extensive concrete aggregates operation. See the full spread, starting with a dry-cut and the Liberty Jaw Crusher.
Watch to see all details
01.
NIP ANGLE
The aggressive slant allows for consistent material processing through the life of the liner.
02.
DRIVE GUARD
Manufactured of composite material so a single crew member can remove for drive access.
03.
WEDGE ADJUSTMENT
Push a button to quickly and hydraulically adjust closed-side settings.
04.
PITMAN TOE PROTECTION
Eliminate downtime for re-machining with this replaceable protective component.
05.
DIE LIFTING POINTS
Manufactured directly into the dies, which is safer than fragile welded options.

The Liberty Jaw Crusher comes backed by a rock-solid 2-year / 6,000-hour warranty against manufacturer defects.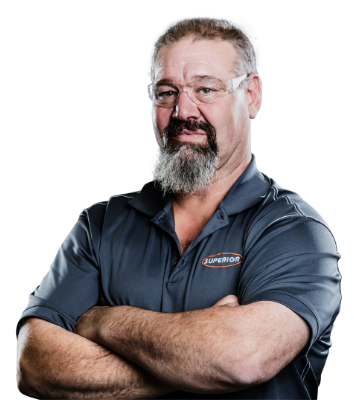 Liberty Jaw Crusher MORE VIDEOS
At CONEXPO-CON/AGG 2020, Grant Holmes gives a walk-around overview of the newest Liberty® Jaw Crusher.
Product manager, Grant Holmes, discusses the new Liberty® Jaw Crusher model that debuted at CONEXPO-CON/AGG 2020.
This animation details the unique features of the bolted design series of Superior's compression jaw crushers.
Application-Specific
LINER CONFIGURATIONS
Flat Tooth (Standard)
Shot rock
Recycled materials
Broad tooth profile maximizes liner life.
Corrugated
Shot rock, Gravel
Recycled materials
Moderate tooth spacing good for all purpose applications.
SHARP TOOTH (WAVY)
Rounded rock
Slippery materials
Moderate tooth spacing good for all purpose applications with slightly less wear life.
bellied & filled ends
Shot rock
Abrasive materials
Helps maintain a high position of crushing. Filled ends provide maximum liner life.
anti-slab
Recycled materials
Uneven tooth height generates less "slabby" product.
Liberty Jaw Crushers in Application
Stock Inventory
Most of the time, we rely on our dealers to stock Superior equipment. However, we typically have a small amount of factory stock.
Have questions? Need a quote? Complete the form below and we will follow up shortly.
Request More Info

| LIBERTY JAW CRUSHER

See our privacy policy here.
Service & Parts
We always have been and always will be a privately-owned company. That means we can add more employees to our customer service team without Wall Street breathing down our neck. Isn't that the way it should be?
dealer support
They're the same neighbors you'd trust to babysit your dog on the weekend. Our factory-trained dealers are a local connection for sales, service and parts.
phone support
Staffed by agents born to serve others, you're welcome to call our technical service team 24/7/365. (If you call in the middle of the night, we can't guarantee they're in uniform!)
replacement parts
You know the old saying…"square pegs don't fit in round holes?" It's often the case with knock-off parts. Genuine Superior parts are forged from the same steel as our equipment