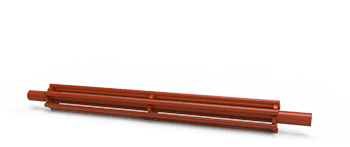 Shake. Rattle. Roll.
Sometimes referred to as squirrel cage return rolls, the rods create a beating motion, which releases sticky carryback material from belts.
Beater Bar Return Rolls are effective in cleated conveyor belt applications where traditional cleaners or scrapers are not effective. Gaps between the bars allow for material to escape, eliminating buildup on the roll to prevent belt mistracking.
When installed near the head pulley of your conveyor, dislodged material will fall to the stockpile. A life shaft is fixed to the roll and rotates with the idler, so larger bearings with higher load ratings can be used.
Diameters 5" or 6" (127mm – 152mm)
Belt widths 18" – 72" (457mm – 1,828mm)
Shaft size 1-7/16″ or 1-15/16″ (36mm – 49mm)
Have questions? Need a quote? Complete the form below and we will follow up shortly.
Request More Info

|

Beater Bar Return Rolls

See our privacy policy.