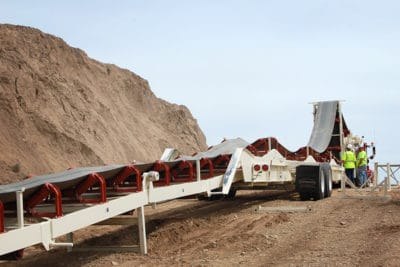 The Portable Overland Conveyor
Today, dry bulk handlers have a new choice for long distance conveying in short term or portable applications. The Trailblazer Conveyor is a 500-foot-long (152m), fully-assembled overland conveyor in one towable package. Best of all, set up takes just hours!
Historically, applications like these may have relied on a series of jump conveyors to cover the same distance. That means multiple transfer points to maintain, electrical considerations for each conveyor, and lots of belting. It's maintenance multiplied!
Meanwhile, traditional overland conveyors require cranes for installation, are anchored in concrete, and take weeks to set up. They work best in long-term, stationary applications.
Blazing A Trail
Carver Companies needed a temporary, long distance material handling solution while constructing a new container terminal. Their options were to string together a bunch of jump conveyors or try out the Trailblazer Conveyor.
01.
Road Portable
Up to 500' (152m) of overland conveyor in a single load that can be towed down the highway.
02.
One Conveyor to Maintain
Compared to multiple jump conveyors, there's one transfer point, one belt and one power supply.
03.
(Very) Fast Set Up
Experienced crews can set up or dismantle in about an hour. First timers will finish in one shift.
04.
All-in-One
All components are packaged within a single load including the receiving hopper, support stands, take-ups and guarding.
Local Stock. Local Support. Local Experts!
TRAILBLAZER CONVEYOR SET-UP
Watch It Unfold
Position the tail end where feed will be introduced.
Mark a straight line for the driver's path.
Remove any packaged accessories like support legs.
Secure or anchor the tail end of the conveyor
As the driver moves forward, conveyor sections will roll off.
Insert support stands or legs along the path.
Left the discharge end and lower the gravity take-up.
Attach any guarding and accessories for operation.
models
Have questions? Need a quote? Complete the form below and we will follow up shortly.
Request More Info

|

Trailblazer Conveyor

See our privacy policy.