PATRIOT® CONE CRUSHER
6 Key Advantages That
Crush the Competition
Add Superior's Patriot Cone Crusher to your circuit.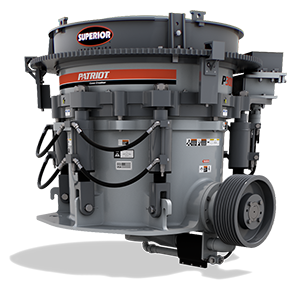 1
Counterclockwise Countershaft
If clamping pressure is lost, the counterclockwise rotation opens the crusher rather than turning down and causing catastrophic damage.
2
Crushing Chamber
The universal design of the chamber requires no major change-outs when shifting from secondary to tertiary applications.
3
Tramp Relief System
Designed with fewer accumulators for less maintenance and common points of failure.
4
Head Seating Surface
The machine-raised cone head seating surface allows for the surface to be reconditioned up to 3x in the field. No additional welding inside a shop needed.
5
Vantage® Automation
One-button start stop for Patriot Cone Crushers. With Vantage Automation you get auto-start and auto-stop control, no lengthy training (learn in minutes.) Automatically maintain optimum production and get alarms that alert for harmful conditions.
6
Lifetime warranty
Grow old with your crusher!
The lifetime warranty option covers major crusher components– the industry's first lifetime cone protection.
Maximize cone crusher performance
Every producer wants peak crushing performance, but not every producer knows how to achieve it. Getting there may require a few tweaks– or even a total rebuild.
Get details in this PDF, about maximizing cone crusher performance.
Lower your cost per ton
Increase your plant uptime
Reduce your maintenance costs
Alberta Aggregates
UPgrades to Patriot cone
When you are working in cold, remote sites such as this one in Alberta Canada, it is important to have equipment that is rugged and reliable. Being well versed in our conveyor systems, Alberta Aggregates upgraded to a new Patriot Cone Crusher a year earlier and continue to enjoy the benefits.
Patriot cone
in the field
Maverick Crushing
Maverick Crushing purchased a Superior Patriot Cone Crusher based on the performance of their Superior conveyors and the support they had received throughout the years. A bit of skepticism is expected being a newcomer in an established industry.
The company noticed high performance from the Patriot Cone and believes it can keep up with cone leaders in the industry. Maverick Crushing is currently planning to add another cone crusher to their operation, and have stated it will be another Patriot Cone Crusher.
Have questions? Find out how to add a Patriot Cone to your operation.
Crush it –

Patriot Cone Crushers