Phoenix Mine Acquires Unique Material Handling Solution
A New, One-of-a-Kind Portable Groundline Conveyor Keeps Secondary Circuit Upgrades Ahead of Schedule
Headquartered in Denver, Colorado, Newmont Mining Corporation is one of the world's largest gold producers, with active mines in Nevada, Indonesia, Australia, New Zealand, Ghana, and Peru; and some smaller operations in Bolivia, Mexico and Canada.

Over the last 50 years, its operations in Nevada have grown to include 14 open-pit mines, four underground mines, and 14 processing facilities. Located near Battle Mountain, Nevada, its Phoenix open-pit gold, silver and copper mine began production in 2006 and boasts one of the largest milling operations in North America. Currently, the operation has reached 11-million-tons of annual production.

Newmont prides itself on discovery and development, and on identifying innovative ways to extract additional value within existing operations and projects. For example, Newmont reports that the Phoenix Mine initially had a projected life of 20 years; however, current exploration may reveal deposits that will significantly extend the mine's life. As such, the Phoenix Mine, like others owned by Newmont, is focused on a number of continuous improvement projects which emphasize equipment productivity, cost reductions, and increased mill capacity.

Throughout the Newmont organization, processing upgrades are subjected to considerable analysis, testing and validation – all with the goal of eliminating waste, re-work, and accelerating speed in arriving at a successful processing solution. Recently, the Phoenix Mine acquired a unique material handling solution – a new, one-of-kind portable groundline conveyor – to aid in meeting a tight testing timeframe.

The Phoenix Mine was charged with the goal of establishing an effective secondary crushing circuit to reduce feed size, hopefully resulting in an increase in SAG mill capacity. Originally, all pit-run material was processed through a gyratory crusher which fed a stockpile preceding the SAG mill. Robert Tucker, process maintenance general foreman for the Phoenix Mine, supervised the setup and ongoing testing of an additional 1200 HP cone crusher, which is at the heart of a new secondary circuit.

"Initially, we are averaging an additional 150-tons-per-hour of throughput to the SAG mill," says Tucker. He explains that from the gyratory, material is crushed down to a 5-inch topsize before being fed to the secondary cone where it is crushed down to an inch and a quarter. Oversize is screened and sent to a pebble crusher before being sent to the SAG mill. The undersize material is crushed in a single pass through the SAG mill.
Project Details
COMPANY
Newmont Mining Corporation
LOCATION
Phoenix, Arizona
APPLICATION
Mining: Metals
PRODUCT(S)
Trailblazer® Conveyor
Summary
Starting in 2006, Newmont Mining Corporation's Phoenix open-pit gold, silver and copper mine has reached 11-million-tons of annual production; making it one of the largest milling operations in North America. With a goal of increasing capacity, the phoenix mine established a secondary crushing circuit where they incorporated a 500-feet Trailblazer Conveyor to move material from the crusher to a stacker. Its ability to go from road to working status in just about an hour reduced the mine's downtime by four weeks or more in comparison to a permanent or stationary groundline conveyor.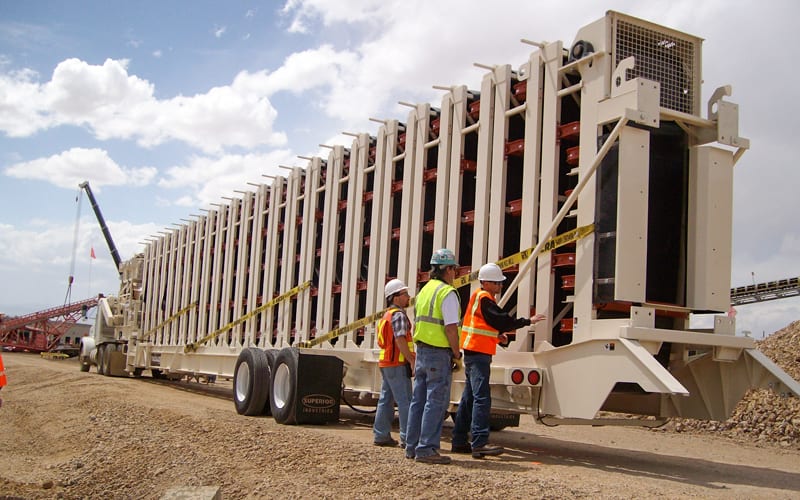 Key to the whole setup was a need to convey material 500-feet from the secondary crusher to a stacker which feeds the pebble bin, ultimately providing fresh feed for the SAG mill. "This project had very strict time constraints, and our biggest concern was the potential of slowing the process by four weeks or more with the erection of a permanent or stationary groundline conveyor," says Tucker.
Luckily, after talking with a local contractor, Tucker was told about a new portable groundline conveyor designed and manufactured by Superior Industries, which maintains plants in Minnesota and Arizona. A highly unique innovation, the Trailblazer Portable Groundline Conveyor includes 500-feet of fully-belted (36-inch belt) and assembled groundline conveyor in a mobile, one-load, towable package. Versus a traditional, stationary groundline conveyor, the Trailblazer Conveyor allows rapid deployment from the road to working status in just about an hour. With a gravity-style take-up built into the trailer structure, the new portable system simply folds in or out in an accordion fashion from its chassis with a minimal crew required to position the supports.

In testament to the new age of online media, Tucker says he first saw the Trailblazer Conveyor in operation on YouTube. "Then we contacted Superior Industries and made arrangements to go to their Minnesota location to see it, as we couldn't believe that a small crew could install a 500-foot conveyor in an hour and actually run it," he says.
The Phoenix Mine took an expedited delivery of the new Trailblazer Conveyor in April 2010. "Although we witnessed the hour-long setup of the system twice at the factory, we took our time (under two days) to set it up on our site. For us, we typically do not operate any portable equipment, so we wanted to make sure that we could level, adjust and align it just the way we wanted it. Superior sent a team from their Arizona plant to assist us," says Tucker.
The Trailblazer Conveyor is engineered for easy, safe installation. The transport straps and pull-pins ensure that each conveyor system comes off the chassis in order, one at a time, as it is guided carefully onto supports. Additionally, the system features a modular take-up design with bolt-together guard rails that pin into place. Self-aligning idlers and Navigator® Training Rolls ensure that alignment is correct at all the hinge points and eliminate any belt tracking issues. The system is also designed to accommodate variations in grade, and the hinges on the channel sections can handle significant changes in grade as long as the drive is sized accordingly. Slight to moderate grades are normally achieved with the system's standard 50HP drive.
For the Phoenix Mine application, Superior Industries customized the Trailblazer Conveyor to include bolt-on plates to lock the joints on three sections to allow the accurate operation of a belt scale. Idlers were upgraded from the standard CEMA C idlers to CEMA D5 idlers, the latter being recommended for the specific application.
Have questions? Need more information? Complete the form below and we will follow up shortly.
Request More Info
See our privacy policy.