Littleton Quarry is Big on Efficiency
Located 35 miles northwest of Boston, the Littleton Quarry is one of eight stone quarries owned and operated by the Northeast Region of Aggregate Industries, which maintains six regional construction materials businesses. Each region produces high quality crushed stone and sand and gravel, plus ready-mixed concrete and asphalt for a wide range of large infrastructure projects and commercial and residential developments.

Starting as a sand and gravel pit, and then transitioning to a granite quarry, the Littleton site has been in operation since the 1950s and is known for its industry-leading standards and a commitment to its community. The operation strictly adheres to the ISO 14001 certified Environmental Management System. It uses a closed-loop water recycling system for washing stone and maintaining dust control, and has established "green" buffer zones between the quarry and the neighboring community. As an active participant in local community outreach programs, one of its recent achievements includes the construction and donation of an onsite K-9 training facility for FEMA Urban Search and Rescue Dogs.

In the 2010s, the Littleton Quarry decided to upgrade its operations by relocating its secondary and tertiary plants closer to the quarry face. Its goal was to increase efficiency and reduce costs per ton. The new plant used existing crushers fitted to a brand new structure, as well as the addition of four new screens, and five conveyors manufactured by Superior Industries – two 36" by 150' TeleStacker Conveyors and three portable radial stackers. "This upgrade and relocation allowed us to cut our overall footprint by 43 percent, and eliminated more than 2,200 feet of overland conveyor," says Chad Abramson.

Abramson stresses that a new approach to stockpiling and material handling at the site has delivered a quick return on investment and is arguably the biggest factor among the operation's efficiency initiatives. "We have achieved a 28-cent-per-ton savings by eliminating the double handling of our finished products, and the high costs of using loaders and haul trucks, and additional manpower to transfer material stockpiles. With diesel fuel prices on the rise once again, investing in the right conveyor systems is easily justified," he says. Abramson goes on to explain that in the past, the operation used two fixed stackers with a stockpiling capacity of 8,000 tons each. "Each time we would reach capacity, we would have to load the material into two 70-ton haul trucks and transfer it to a final stockpiling area. That's double handling and additional costs in fuel, wear and tear, and loader operator overtime – all of which significantly affects profit margins," he adds.

Chosen for an ability to stockpile 70,000 tons under each conveyor, the Littleton Quarry uses two Superior TeleStacker Conveyors to stockpile its high-demand 3/4-inch and 3/8-inch products. Each of three Superior portable radial stackers allows a 14,000-ton capacity in stockpiling dense grade, 1/2-inch and 1 ½-inch products. "We sell our material from the finished stockpiles and once we achieve the desired volume, we move the portable stackers to other areas within the crushing circuit," says Abramson.
With a range of arc up to 270 degrees, the automated telescoping conveyor can be programmed to create customized stockpiles in many different sizes, shapes and configurations, while providing up to 30 percent more stockpile volume over that of the standard radial stacker. For the Littleton facility, this unlimited flexibility provides a higher quality product at less cost. Abramson describes his finished stockpile as looking like a giant kidney bean. "We can program the TeleStacker Conveyor to a certain travel pattern, and then just walk away," he says. The unit features a PilePro™ automation package which is operated by a user-friendly touch screen system that programs the conveyor to create the desired stockpile for the application.
Abramson also finds the Superior TeleStacker Conveyor as the only effective solution to creating a fully desegregated stockpile. "We do a tremendous amount of DOT work, so we really need to be right on top of our gradations," he says.

The telescoping conveyor consists of a stinger conveyor mounted inside an outer conveyor of similar length. With the ability to move linearly along the length of the outer conveyor, the stinger conveyor varies the location of the discharge pulley. The height of the discharge pulley and the radial position of the conveyor are variable. This three-axis variation of the discharge pulley is integral in building the layered pile in a series of windrows that overcomes segregation and creates an even blend of material throughout the pile. The automation package controls the movements of the stinger, the incline, and the radial travel to create the pile according to the desired specifications.

As to maintenance, Abramson says that the TeleStacker Conveyor is fully mobile and can be moved to the side of the pile where it can be lowered. "Our crew was trained onsite by a Superior representative as to operation and maintenance. All maintenance can be done at ground level. It's safer and easier, and eliminates the need for an elevated platform. Also, the unit came from the factory with the recommended primary and secondary belt cleaners," he says.

Ultimately, when considering a move to more efficient material handling methods, the Littleton operation looked at the total picture. Consider that the typical loader has a value in excess of $300,000 and when factoring in depreciation and fuel costs, a loader may average more than $120,000 in annual operating costs. Alternatively, an automated conveyor system has a lifespan of more than twenty years, and its high-capacity performance and low-cost operation is still affecting the bottom line long after the truck or loader hits the salvage yard. Furthermore, rising fuel prices have little effect upon conveyor operating costs. Certainly electricity costs are fairly stable when compared to diesel prices and conveyors can move material during off-peak energy intervals.

While the Littleton Quarry is big on efficiency, Abramson says that it is also committed to environmentally-sound operation. As to the latter, the new conveyor systems have delivered major returns. Obviously, conveyors are the environmentally-friendly choice while individual trucks and loaders emit and stir pollutions along the entire transfer path. "Our upgrades, and particularly our new material handling systems, have significantly affected our quality and our commitment to ongoing improvements in the way we do business," he says.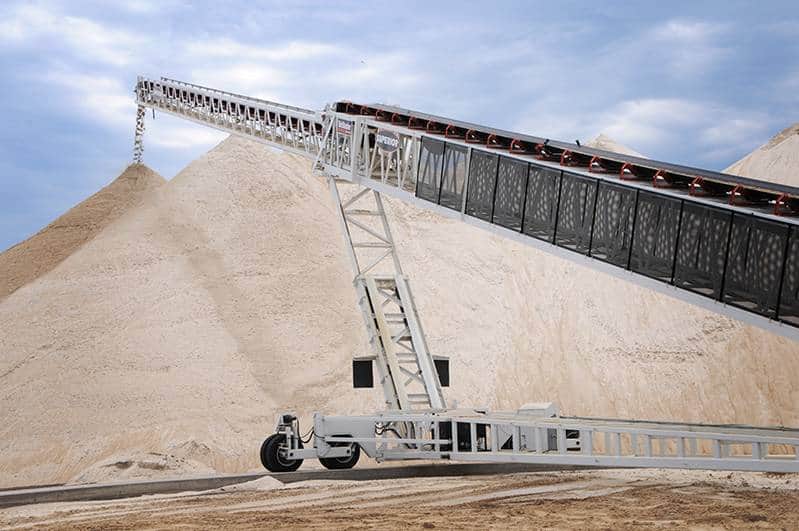 Project Details
COMPANY
Aggregate Industries
LOCATION
Boston, Massachusetts
APPLICATION
Aggregates: Crushed Stone
PRODUCT(S)
TeleStacker® Conveyor
Radial Stacking Conveyors
Summary
With a goal to increase efficiencies and reduce costs per ton, Aggregate Industries added two 150-ft TeleStacker Conveyors and three Portable Radial Stackers to their operation. The upgrade and relocation allowed for a 43 percent cut in footprint and eliminated more than 2,200 feet of overland conveyors.
Have questions? Need more information? Complete the form below and we will follow up shortly.
Request More Info
See our privacy policy.